Why Tibet?
Dubbed as different names: Shangri-la, the Land of Snow, the roof of the world, the magical mysterious Buddhist kingdom of Tibet is without doubt one of the world's most remarkable destinations for tourists. Whether you search for spiritual enlightenment, or a close-up look at the unique and fascinating landscape and its pure religious people, the visit to Tibet can be always a rewarding and pleasant one.
Why shall we go to Tibet?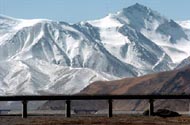 1. As the roof of the world, Tibet boasts the fascinating natural environment. The bright blue sky, snow-capped mountains, clear ice-cold rivers, lively highland creatures compose the unique natural wonder, which is hard to find in any parts of the Earth.
2. Deep-rooted Buddhist culture. Strong religious tradition has been well-preserved here since Buddhism was introduced into Tibet in around 7th century. Magnificent Potala Palace, holy Jokang Temple and appalling sky burial arouse the interest of outside people to take this pilgrimage tour to see the distinctive culture.
3. Pure Religious Tibetans. Visitors are often touched by the pietistic Tibetan prayers in front of Jokhang Temple or along the highway to Lhasa. Even some people have prostrated themselves so many times, developing a thick callus on their foreheads. On the other hand, they are simple, friendly and joyous people. A chance to have an interaction with Tibetans can be your best part of the visit to Tibet.
4. "Seeing is believing? Visitors can find out the fact through your own experience. Through different media at home, most Westerners often relate Tibet to some negative words like invasion, suppression, cultural genocide and so on. After stepping on the land, you may get some unexpected answers and have a better knowledge of what has been going on in the place.
Travelogues from the visitors:
The people. In all my travels, I have never, ever met people so willing and eager to laugh. Although there are, of course, exceptions and of course people who have little to laugh about, the vast majority of people we met--whether beggars or children, lamas or shopkeepers--were almost always on the verge of a smile, if not a grin. Laughter seems to come easily to these people and the influence such a "small" thing can have on your day and your experience is absolutely enormous.
By David of Chicago USA
You have to put up with a lot to get up onto the "rooftop of the world" ?bureaucracy & permits, distance & flights, unpaved roads & long drives, poverty & filth, altitude sickness, headaches, nose bleeds, and dust... lots of dust. But make it to Tibet and you will be rewarded with a surfeit of sensory experiences. Tibet will delight and challenge your senses with smells, tastes and colors you have never experienced before. Good or bad, you'll discover the fetid odor of yak butter and incense that smacks of hashish. You'll taste rich, savory stews of spicy yak, crisp Asian pears, and sweet local melons.